Marklamarrmalarky
(Please contact me directly to buy/trade this (or any other) CD, or you can usually buy it on ebay uk for £3 + p+p. If you're in the US, it might be easier to get it from Noisick Records along with various other noise/grindcore/punk/crazy stuff!)

Marklamarrmalarky consists mostly of quite epic + deranged noise tracks and sound collages recorded using circuit-bent devices, distortion, feedback, digital and tape-loop delay, etc. Occasionally there's a short track recorded via the wonderful silophone.
Track titles are descriptions of surrealist objects from a random text project I'm currently working on.
WARNING: This CD has absolutely nothing whatsoever to do with a certain popular 50's throwback.

Tracklist

A varnished humus clothes peg and at least one fossilised soft cheese dog
A camoflage pair of pants with a picture of Mamoru Oshii on the front and a colour photo of Michael Jackson on the back.
A beige t-shirt with an accurate textual description of a nose on the front.
A hairy milk chair with a ceramic hat.
A hot padlock immersed in milk and a record in a potato sack
A traffic cone full of zinc
A pint glass full of meat (download mp3 here)
A broken chocolate super-8 camera at the back of a rough clingfilm riot shield.
An electrified fat carving of a buzzard small enough to fit in a paper cone.
A flattened flannel skull under a fimo revolver.
A 112 cm long flourescent yellow and dark green striped scarf with "low resolution black and white bitmap image" written on it.
35 liters of corned beef laminated with gold
17 grammes of pewter, a branch coated with wax and a 127 cm long flourescent yellow and camoflage striped scarf with "hope" written on it.
A matte black magnetic flute.
---
Listen to preview and buy online at the Cementimental store at lulu.com.
Only $7.00

High-concept, low listenability! 9 noisy and minimalist tracks recorded live using 'no input mixing' techniques: Various cheap & nasty home video audio mixers were plugged into themselves, outputs to inputs. This caused a surprising array of ugly synthy feedback noises, all highly manipulatable, mostly highly painful. No other sound source was used. Distortion/heavymetal pedals were incorporated in the feedback loops in some tracks, but otherwise no effects or editing was involved. Try it yourself some time, your attempts will probably be better than mine, or at least shorter.
This CD is probably best listened to very loud, but from a long long way away.
Click on the cover image to see full back + front cover.

Tracklist
07:50 first attempt
11:42 too long
10:16 ambient bassy
08:11 pan sonic it ain't
03:14 something
11:23 merzbow it aint
09:26 bleepy
05:51 shreddies
01:15 using only the minidisk recorder.
---
Untitled compilation
A 80 min CD with WAY too many tracks, which I've been sending out to various people. A pretty comprehensive overview of Cementimental and all side projects as of spring 2003! No cover, no title just the tracklist printed on a paper sleave. I won't bother listing the tracks here... there are too many, plus some tracks don't even really have titles. And it changes sometimes.
---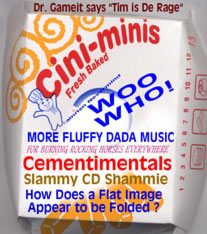 Cementimentals Slammy CD Shammie
Selection 'from the pre-musical era' of Cementimental, 2000-02. Anti-music, anti-graphics... some really foolish early tracks! Cover design and title by mail artist Rain Rien.

Tracklist
intro - 0.03
cheef keef + who's army
Christmas lullaby - 4.36
cementimental live in swansea 10/12/01
drunk demo - 0.29
circuitbent yamaha keyboard
gale - 1.57
circuitbent voicechanger
grassjelly - 2.21
no-fi sampler chaos
icecream Vs Kamen Rider - 3.32,
seems longer! dual toy sampler dual
Nuclear Elf Scandal - 1.06
my NES died to bring you this tune
icebreaker - 1.29
voicechanger with no voice
slinky noise - 3.44
slinky, piezo, distortion, you could do better.
splish - 0.40
name that tune, please don't name your reaction to it.
waste - 1.02
found sound and noises for A1 waste paper co.
scampiscape - 5.42
bent walkietalkie rocks a stadium
monkeymanmachine - 0.29
tony VS Robotony. Uncanny.
where no man has wanted to go before - 1.44
inexcusable, and includes too many in-jokes
beaver song - 1.32
unforgivable
at11
my mac made this track all on it's own! - 2.00
over 7 minutes of slightly tedious noise created only
with gameboy camera and distortion - 7.39
well, I enjoyed recording it.
I don't like the word 'outro' - 0.05

---
More soon